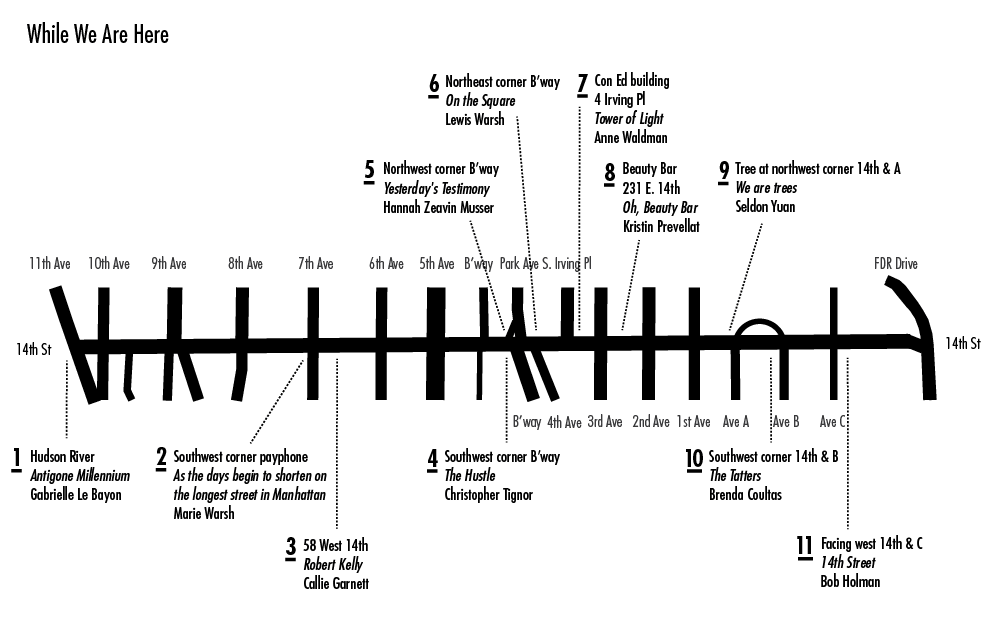 PROJECT DESCRIPTION:
Selected poets, artists, reporters, and musicians have created audio recordings about 14th Street that are to be listened to at specific locations along 14th Street. The recordings will be accessible via smart phones or can be downloaded and played on a digital music player. These selected artists, poets, and musicians include Brenda Coultas, Seldon Yuan, Callie Garnett, Lewis Warsh, Anne Waldman, Bob Holman, Christopher Tignor, Marie Warsh, and Gabrielle Le Bayon. Organized by Seldon Yuan for Art in Odd Places 2012.
CONTRIBUTORS:
Brenda Coultas is an American poet who resides in New York City. Her published collections include Early Films, The Bowery Project, The marvelous bones of time: excavations and explanations: poetry, and A Handmade Museum which received the Norma Farber First Book Award.
Gabrielle Le Bayon is an artist filmmaker with an interest in the relationship between history, personal experience and space. Her work intends to engage with landscape and aesthetics, investigating the notion of resistance in relation to the features on the surface of the land. It aims to generate new systems of spatial representations where historical and personal realities meet to form new contemporary myths. www.gabriellelebayon.com
Callie Garnett grew up in Brooklyn and graduated from Bard College. Having been a construction worker, waitress, teacher and copywriter, she is currently earning a PhD in American literature at the University of Iowa.
Bob Holman is an American poet and poetry activist, most closely identified with the Oral tradition, the spoken word, and slam poetry. As a promoter of poetry in many media, Holman has spent the last four decades working variously as an author, editor, publisher, performer, emcee of live events, director of theatrical productions, producer of films and television programs, record label executive, university professor, poet's house proprietor, and archivist. www.bobholman.com
Kristin Prevallet is an American poet and essayist who currently lives and works in New York City. She has had six collections of poetry published as well as contributed to several books. She is also a literary translator of French, for which she was awarded a 2004 PEN Translation Fund Grant from PEN American Center. www.kayvallet.com
Christopher Tignor was born in Morristown, New Jersey, in 1976. He studied violin beginning at age three and picked up numerous other instruments over his years as a classical and rock performer. While a student at Bard College, he became interested in computers through their musical possibilities and began building live audio processing software for his early mentor, Richard Teitelbaum. He subsequently went on to study computer science with Edmond Schoenberg at New York University, and then music composition with Paul Lansky in Princeton University's doctoral program, his first formal introduction to composition. He is best known for his compositions for the avant-rock bands Slow Six and Wires Under Tension, available from the Western Vinyl and New Albion record labels, as well as several releases of his work for classical performers, often in conjunction with his signature live audio-processing instruments. www.wiresundertension.com
Anne Waldman is an American poet. Since the 1960s, Waldman has been an active member of the "Outrider" experimental poetry community as a writer, performer, collaborator, professor, editor, scholar, and cultural/political activist. Waldman co-founded The Poetry Project at St. Marks Chuch In-theBowery and founded the Jack Kerouac School of Disembodied Poetics at the Naropa Institute in Boulder, Colorado (now Naropa University), where she remains a Distinguished Professor of Poetics and the Director of Naropa's famous Summer Writing Program. She has published nearly 50 collections of poetry and been awarded many awards and grants from such groups as the National Endowment for the Arts, The Emily Harvey Foundation, and The Poetry Society of America.
Lewis Warsh is the author of numerous books of poetry, fiction and autobiography, most recently A Place In The Sun (2010), Inseparable: Poems 1995-2005 (2008), Ted's Favorite Skirt (2002), Debtor's Prison, in collaboration with Julie Harrison (2002), The Origin of the World (2001), Touch of the Whip (2001) and Money Under the Table (1998). He is editor and publisher of United Artists Books and director of the MFA program in creative writing at Long Island University, Brooklyn. Mimeo Mimeo #7 (summer 2012) features his poems, stories and collages.www.lewiswarsh.com
Marie Warsh is a landscape historian, writer, and photographer living in Brooklyn. She spent much of the 1980s swimming at the 14th Street Y.
Seldon Yuan is a poet and artist living and working in Brooklyn. He has had his work published in various periodicals and has published a book of poetry entitled morning, afternoon, evenings, as well as performed his poetry across the US and abroad. His art has been exhibited nationally and internationally in various galleries and venues including the Museum of Modern Art, International Center of Photography, Cedar Rapids Museum of Art, Arario Gallery, Rare Gallery, La Generale in Paris, Gallerie 69 in Oslo, Norway, Around Space in Shanghai, and the Museum of New Art in Detroit. He has completed residencies at Chashama North, Bowery Poetry Club, and Naropa University. His work has also been published in and commissioned by the Franco-German magazine La Mer Gelee. He is currently preparing work for his inclusion in the Bronx Museum of Art AIM Biennial and just completed a new visual poetry sculpture for Socrates Sculpture Park, Emerging Artist's Fellowship. www.seldonyuan.com
Hannah Zeavin is from Brooklyn, New York. She graduated with a degree in American Studies from Yale University and is beginning her PhD in the department of Media, Culture, and Communication at NYU this fall. She is the author of Circa, published by Hanging Loose Press, and is the poetry editor of Cousin Corinne's Reminder. She is currently at work on two new volumes of poetry, Redress and Soldier Poems.
Copyright is owned by each individual author 2012.